Death proof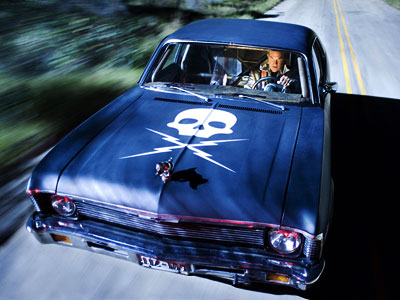 Last Saturday I got a text message that simply said, Tarantino tonight?
I knew that Tarantino had made a new movie, I just forgot it. Needless to say, that very same night I went to see Tarantino's latest work, expecting nothing less but perfection. After all, the grand master of movie always sets new standards to himself and he will surely exceed himself once again.
Not exactly...
Not that death proof is a bad movie, mind you. I deeply liked the main characters and even could listen to their endless chatter for quite some time. However, it was deeply fulfilling when Kurt Russell, Mr badass 'snake Plissken' himself decided to kill them all, violently. Holy crap, that ruled.
The movie then effortlessly switches in a very psycho-esque way to a new group of main characters who fight back against evil Kurt Russell in one of the greatest car chases I have ever seen.
However, before that unbelievably spectacular ending, the movie forces you into watching more girlie talk. Almost 45 minutes of it, in fact. The girls talk so much that at some point you even feel the distinct urge to leave the theatre and drink a beer at the first bar, whilst talking about how low Tarantino has fallen.
I didn't and was rewarded for it with that most excellent car chase, which made the whole movie worthwhile.
So, despite a woeful lack of either giant robots or insects its still a pretty cool movie. I even added Kurt Russell to the list of cool actors, which seems only reasonable. People lose limbs, there is a badass fighting scene and despite the endless girl chatter it was well worth watching.
Tarantino has not exceeded himself on this one, but I can't say I'm disappointed either. 2 MI's are therefore well deserved.